All services will take place at Chabad's new center - 615 W. Wellington Ave. many of the events will take place outdoors on the sidewalk and street.
The main Hakafot and dancing with Rabbi Dovid holding the Torah will be on Sunday at 11:30 am outside the new Chabad center - 615 W. Wellington Ave. The sidewalk and part of the street will be closed off giving us ample space to properly social distance and celebrate with the Torah. 
Following the Hakafot we will read the last part of the Torah and begin the reading of the Torah again. The custom is for all to receive a Aliya on Simchat Torah, make sure to stay around as we finish celebrating.   If you do not have a mask we will have plenty of them around.  
See below the complete schedule for Simchat Torah (as Chabad does Hakafot 3 times, and there is Yizkor on Saturday):

Friday, October 9 - Shemini Atzeres:
Evening services: 7:15 pm
Kiddush and individual wrapped dinner: 7:30 pm
Followed by Hakafot (Chabad does Hakafot on Shemini Atzeres)
Shabbos, October 10:
Services begin: 9:30 am
Torah reading: 10:30 am
Yizkor: 11:00 am
Mincha: 6:00 pm

Simchas Torah - Saturday night:
Evening services: 7:00 pm
Kiddush and individual wrapped dinner: 7:15 pm
Followed by Hakafot

Sunday, October 11 - Simchas Torah
Holiday services begin: 10:00 am
Reading of Ata Hareisa: 11:00 am
Main Hakafot: 11:30 am
Torah Reading: 12:15
Followed by more joyous dancing 

Mincha, Mariv & Havdalah: 6:00 - 7:00 pm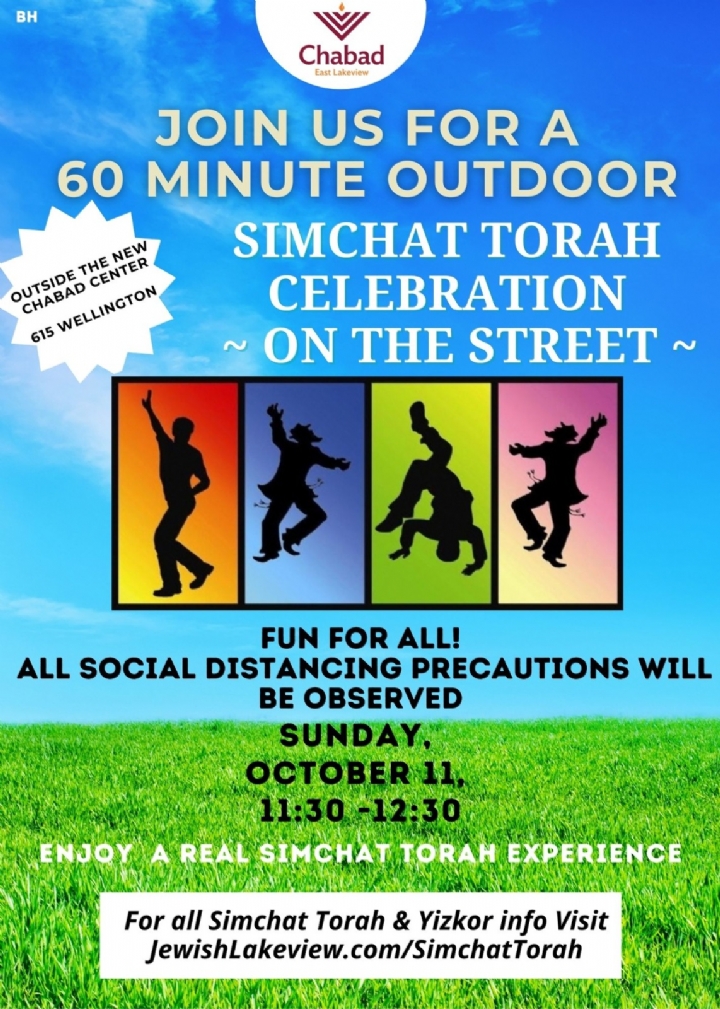 ~~~~~~~~~~~~~~~~~~
 
Dear Friend ,
On Simchat Torah we usually "sell or bid" the special honors available, to raise critical funds to support the ongoing operations of the Synagogue and Center. This is the only day of the year that we would "sell or bid" any Torah honors in this way, as they contain tremendous sparks and blessings and raise crucial funds.
 
This year will certainly be different than previous years (due to Covid-19). The Hakafot will be modified, significantly shorter, with a limited attendance, etc.
 
Though many of the regulars will not be attending services in person, we will be selling the honors in advance - today and tomorrow - giving everyone the opportunity to purchase the Simchat Torah honors. If you will not be in Synagogue, you can bestow that honor on someone else on your behalf, and at the same time help provide important funding for the Synagogue and Center. Each family or individual can be a partner in these great Mitzvahs.
 
Please, would you be so kind and review the honors below and choose an honor and merit for you and your loved ones - and/or in loving memory of a loved one.  Suggested amounts are in increments of 26 (G‑d's name) or 18 (Chai – life): $3,600, $2,600, $1,800, $1,000, $770, $540, $360, $180.
 
Please let me know the donation amount that you are pledging for this Simchat Torah, prior to Sundown, Friday, October 9, via email  [email protected], or text  (773)-495-7127.
 
Wishing you and your loved ones a joyous Simchat Torah and may G‑d bestow mercy and healing the world over.  Amen!
 
With eternal gratitude,
Rabbi Dovid & Devorah Leah Kotlarsky

 
Psichas Haaron (Night & Day)
The honor of opening the ark.
 
Ata Horaisa (Night & Day)
All of the "Ata Horaisa" verses (prayer said before we dance) that are said by all of the members of the congregation, will be said in your Honor.
 
Kohen Aliya (Day only)
 
Levi Aliya (Day only)
 
Third Aliya (Day only)
 
Fourth Aliya (Day only)
 
Kol Haniorim - "All of the Children" Aliya (Day only)
On your behalf, all of the children will be called for a special Aliyah to the Torah.
 
Chasan Torah Aliya (Day only)
This is one of the greatest honors of the year! On your behalf, the final Aliyah of the entire Torah - when the last verses are read and the Torah is once again completed.
 
Chasan Breishis Aliya (Day only)
This is one of the greatest honors of the year! On your behalf, the first Aliyah of the year, as we read the first verses of Breishis and once again begin a new cycle of reading the Torah.
 
Maftir Aliya (Day only)
On your behalf, the Aliyah of Maftir and the reading the Haftora.
 
Hagbah (Day only)
The honor of lifting the Torah, as we conclude the entire Torah, when the whole congregation rises to their feet and recites "V'zos Hatorah…"
 
Gelila (Day only)
The honor of wrapping and covering the Torah.
 
Ner Lamoar - "the lights for illumination" (12 month)
The honor to sponsor one or more month of "the lights for illumination" (electricity), and all prayers and Torah that are read and studied in the Synagogue are in your merit.
 
Wine for Kiddush (12 month)
This honor is to sponsor one or more months, the wine