Join us for Purim at Chabad of East Lakeview
Monday, March 6 - Tuesday, March 7
 

Rabbi's Message

 

Purim at Chabad of East Lakeview is a happy and festive time where we celebrate the salvation of the Jewish people in ancient Persia.

Purim begins on Monday evening and Tuesday - March 6-7.

Schedule for Purim:

Monday, March 6:

Fast of Esther begins: 4:51 am
Mincha with Torah reading, and giving the half coin (Machtzis Hashekel) at chabad: 5:30pm 
Fast ends: 6:16 pm
Main Megilah reading: 6:20 pm
followed by Purim Shpiel (Play) + food
Megilah every hour: 7, 8, 9, 10, 11 pm
YJP Purim Party at the Met: 7:30 pm

Tuesday, March 7:

Shachris (morning services): 6:40 am
Torah reading of Amalek: 7:00 am
First Megilah reading: 7:05
Megilah EVERY hour: 8, 9, 10, 11 am
12, 1, 2, 3, 4, 5
Main Purim party - International Purim: 4:30 
Main Megilah reading: 5:00 pm
Purim Show for kids: 5:45 pm

Chabad will once again host the "Lakeview Purim Center" - Megilah readings EVERY HOUR ON THE HOUR throughout Purim.
Click here to see the details.

We arranged for free parking at Marianos throughout Purim. The security knows to allow your vehicle parked there. Simply park anywhere and hop over to chabad at 615 Wellington (Corner of Broadway and Wellington).

New this year; following the main Megilah reading on Monday evening we will have a short program with a presentation followed by Purim spirited drinks hosted by members from the community. Sure to delight all who join. Megilah reading begins at 6:20 pm. Play from 7:00-7:30pm. Bagels & Lox will be served.

We invite our YJP community to join us at THE Purim party for young Jews (ages 21-39) in Chicago. Hosted by all the chabad's in the city.
Visit  DowntownPurim.com to RSVP.

Make sure not to miss the main Purim party, Tuesday, March 7 "The International Purim Party. Program will include a magic show for kids, game show for adults food from around the world and much more. RSVP at JewishLakeview.com/International.

You can find more information about the holiday below.

Wishing you a happy Purim!

Rabbi Dovid & Devorah Leah Kotlarsky

 

---
Main Purim Party - 'Purim in Israel'
---
Megilah Every Hour on the Hour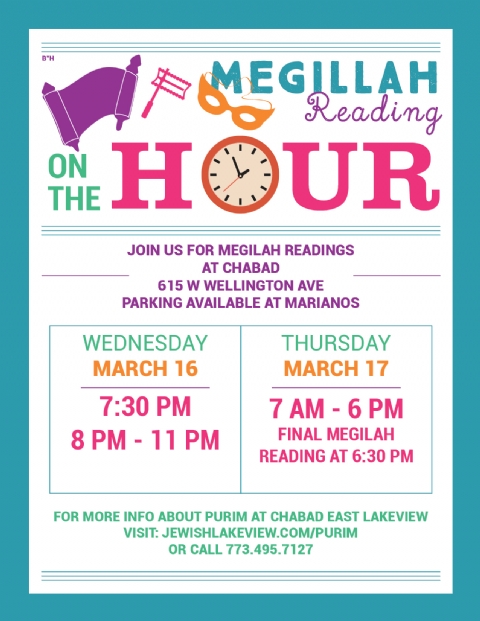 ---
YJP Purim Party at the Met
---
 

Megillah Readings

 

Monday evening // March 6

Following the Evening Services: 6:20 pm
and then 7:00 pm - 11:00 pm

Tuesday // March 7 - Megillah Readings Every Hour

During our Morning Service: 7:05 am -
and then 8:00 am - 5:00 pm

Please contact the office if you would like to schedule a megillah reading at your office, school, or other central location!

 

---
 

YJP Purim Party

 

Location: The Living Room           
1632 North Milwaukee Avenue Chicago, IL 60647

Date: Wednesday evening, March 16

Time: 7:30 PM – 11:30 PM

Details:

Dress up
Live DJ Music
Premium Open Bar
Megillah Reading
Hor D'oeuvres
Hundreds of Young Jewish Professionals
Smiles all around

For Tickets Select Link Below

 

 
Community Purim Party
'International Purim'

 

Location: Chabad of East Lakeview

Date: Tuesday evening, March 7

Time:  4:30 pm

Details:

Dress up
Live Israeli Music
Dancing
Magic Show for kids
Game Show for Adults
Bar for 21+
Lavish Diner
Smiles all around

FREE ADMISSION-DONATIONS APPRECIATED

 
 

Food Gifts to Friends

 

On Purim we emphasize the importance of Jewish unity and friendship by sending gifts of food to friends.

On Purim day, March 17, send a gift of at least two kinds of ready-to-eat foods (e.g., pastry, fruit, beverage) to at least one friend. Men should send to men, and women to women. It is preferable that the gifts be delivered via a third party. Children, in addition to sending their own gifts of food to their friends, make enthusiastic messengers.

 

---
Giving to the Needy

 

One of Purim's primary themes is Jewish unity. Haman tried to kill us all, we were all in danger together, so we celebrate together too. Hence, on Purim day we place special emphasis on caring for the less fortunate.

Give money or food to at least two needy people during the daylight hours of Purim, March 17. In case you can't find any needy people, your synagogue will likely be collecting money for this purpose. Place at least two coins in a charity box earmarked for the poor.

On Purim, we give a donation to whoever asks; we don't verify his or her bank balance first.

As with the other mitzvahs of Purim, even small children should fulfill this mitzvah.

 
 

Purim Guide

 

---
---